It's time to kick off those heavy sweaters and embrace the slow return of the warm spring and summer months. Sears Canada is getting into the spirit by offering up to 25% off select swimwear that will not only last you well into the summer, but will also play a key part in your attire for a possible spring break vacation. Unfortunately, we can't say aloha to the hunk in the picture above (but, if we could….).
If you're interested in more deals besides this one, make sure to check the Sears Canada coupon page.
Shop at Sears Canada Here
Expires: 7th March, 2013
One of the great thing about bikinis is that colors and styles can be mixed and matched to create unique styles.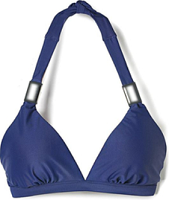 One person might like this Tag triangle top at $19.97 (also featured on the right) while another one might fall completely for this Tag halter top, for the same price. Either one of those bikinis could be paired with this belted bottom and would still look different on each person.
They also have a wide selection of swimsuit cover-ups that are welcome for hiding a little skin. One of the most rated and loved ones is the Cover-Me Swimsuit cover up starting at $29.99. Available in a wide variation of colors, it is light-weigh, breezy and provides the coverage you need without any heavy fabrics.
Are you going anywhere on vacation this year? Tweet us @CouponsCanada and let us know where you'll be going!