When the Sears Winter 2012 catalog was distributed last year and did you (like most of us) proceed to flip through it, all the while creating a mental wish list? I bet you even checked out the Sears Canada coupon page each day in longing for a code to appear? I have good and bad news for you then:
The bad news: It's still winter; boo.
The good news: Sears Canada has not one, but two codes to help you save up to 20% off select sale items from the catalog.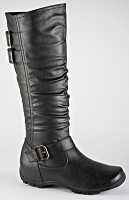 Ladies, are you still in need of kick ass boots that will not only look good but survive and last as you trudge through the snowy tundra outside? Why not pick up this Gallow microfiber fashion boot, featured on the left? With over 63 reviews and a four star rating, it's available in a large selection of colors for the price of $39.99, making it hard to resist buying just one pair.
Be the center of attention in this Jolie sequin dress that has sparkles all over. You'll be as bright as the star you know you are and no one shall dare miss you! Make it yours for $29.88.
Since shipping varies per order, make sure to check before finalizing your order.
What's on your wish list?