It's time to break some walls and make space in your closet for everything you will be picking up at Tommy Hilfiger. Don't believe it? Then I bet you won't believe this Vouchercodes.ca Exclusive code that we managed to get our hands on as well: for a limited time, you can save either 15% off site-wide or 20% off when you spend $150 or more. No need to pinch yourself because it definitely is here!
The Tommy Hilfiger coupon page is real too, but I bet you knew that already, didn't you?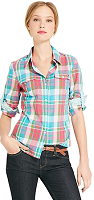 Does this exclusive code stack with the current offer happening on the site where if you buy one full priced item, you save 50% off on the second one? Why, yes it does! The only hitch is that this offer expires on February 11th, 2013.
The verdict is in and plaid shirts are back in style this season! Pick up the roll-tab shirt featured on the left for $44.98. Cut to fit our ultra feminine bodies, it's is 100% cotton, which translates into 100% comfortable.
Looking for something of the same style, but without the plaid? Your wish is my command! Take a quick peek at this pink roll tab shirt for $44.98 also. Can you hear it calling your name, begging for a place in your newly expanded closet?