You may think that you don't need to visit our Halloween Express page for awesome codes, but I'm here to prove you wrong. This awesome store has transformed into a fully blown Christmas site filled with all the decorations and costume needs that you could ever think of. Take advantage of our Vouchercodes exclusive to save 15% off your entire purchase.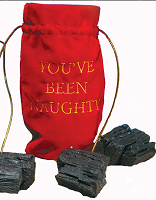 I'm a silly girl and I like silly things, so it's no surprise that my weird side was instantly attracted to this Bag of Coal,which I plan on buying for all of my roommates (I like my awesome co-workers too much to do that). Already reduced to $4.49, it drops down to $3.82 with our exclusive…perfect price for a clever joke!
Shipping varies per order, so double check to make sure. What are you going to adorn your home with this holiday?