With bikini season in full swing and The Color Run happening all over the country, it's never too late to get in shape! As an incentive, shop Under Armour's mid-Summer Outlet Event for tremendous deals on work-out gear. Until July 2nd, 2013, all orders will even be shipped absolutely free with no minimum required!
If you happen to miss the free shipping offer while the outlet sale is still ongoing, then head on over to our Under Armour coupons page for a code to enjoy free shipping on orders over $45.
Visit Under Armour's Outlet Sale
Expires: 6th July, 2013

Need more motivation to work-out? Then the "Practice Makes Perfect" t-shirt is right for you! Reduced down in price, it's not just any regular shirt as it's designed to wick away sweat and help you stay cool while you experience the work-out of a lifetime. And there's no feeling self-conscious in it as it's made loose — can it be any perfect?
Alternatively, the girls' victory tank is another great choice. Though fitted, it's definitely worth getting, especially at it's Outlet price.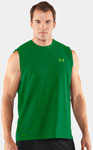 Don't fret guys, there's quite a bit for you to choose from as well! Take for instance the sleeveless t-shirt discounted to $14.99, which is sure to make you look super-charged just like Hulk. Its charged cotton is made to ensure that sweat simply rolls off and in the event that you do happen to get wet, either from sweating heavily or dousing yourself in cold water, then it will also dry at super speed.
Perfect for just about any scenario, the men's utility gloves' versatility is sure to last and as one reviewer pointed out, they can even be used to deliver drinks.
Will you be taking advantage of Under Armour's amazing Outlet Event?