Officially kicking spring into high gear and marking the imminent arrival of summer, May is a great month for outdoor fitness and sports. To help you get started is a VoucherCodes.ca Exclusive for free shipping on all orders at Under Armour with no required minimum.
Have you taken a look at our Under Armour page dedicated to their discounts yet?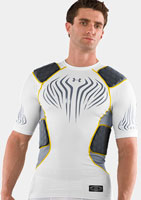 To be worn under sporting gear, the MPZ 5 Pad Armour Shirt offers extra protection for the back, shoulders, and chest. Most notably, its pads protect the spine, ribs and other vital areas. Countless reviews online have hailed this shirt as an essential piece, especially for those with shoulder injuries.
Even better is that its Signature Moisture Transport System wicks sweat away to keep you cool, dry and light. Use it for football, hockey, paintball or any other contact sport for only $59.99, reduced from $79.99.
In case you're wondering about extra protection for your thighs, the 5 Pad Girdle, with 15mm thigh pads for increased impact absorption, is available for the discounted price of $56.99.

With stellar reviews, the UA Victory Tank Top may just become any woman's next favorite work-out shirt. Reduced to $20.99, it features strategically placed mesh vent zones as well as a soft, lightweight fabric for ultimate comfort. In case the size you're looking for has been sold out, the full-priced version is available in a larger variety of colors (black, white, yellow, blue, etc.)
And ladies, don't forget the most important piece of equipment: a sports bra! The UA Still Gotta Have It Bra is definitely a solid choice for mid-impact activities. Priced at $29.99, its lightweight and soft material will make you want to wear it all day long.