Tria Beauty Coupon Codes – Expired!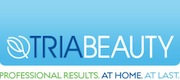 Tria Beauty is now shipping to Canada and we found some great coupon codes for you to get nice discounts. Tria sells laser hair removal systems and skin clarifying systems that you can use by yourself at home. Both systems are clinically proven and supposedly deliver professional results. You can buy the Tria Laser for $495, which means that you save a lot of money compared to what you would have paid in a beauty salon over a period of time.
This is not the first time I've posting about laser hair removal systems to be used at home and as usual I'm excited but also kind of skeptical at the same time. I think it's great money-wise, but this kind of product should always be used really carefully and after double-checking with your dermatologist. But if you follow their instructions, properly Tria claim that their system is really safe. You can always go and check the reviews from previous customers (I checked and they were really positive) about the product before buying it.
Promotion Expired!