Use this coupon code and save 10% on any hotel stay booked at hotels.com. You need to use the code before September 14th and to travel before March 31st 2013. This is an exclusive Canadian deal and it doesn't happen often so make sure you enjoy it.
I was really happy when I spotted this deal for hotels.com because I'm currently looking to get out of town during the long weekend for Thanksgiving. I haven't decided yet where I would be going, so I would really like to hear your suggestions. I live in Montreal, so a place that I can go by car or train please.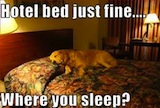 Hotels.com is currently running their 'check-in cash-out' summer sale where you can get up to a $100 Visa prepaid card with your booking. And the deals go up to 30% off select hotels. You can have a look on their site to get more information or you can check our Hotels.com discounts page that is always up to date with the latest offers so you can double the discounts.