Update: New 15% off code added!
Although surely a rare few may argue against this, nowadays shoes are as essential as breathing, especially during our daily commutes to the workplace, store and so forth. Support a great cause, the One For One campaign, which donates a pair of shoes for every pair bought and save $10 off and get absolutely free shipping at Toms Shoes. But hurry, this offer won't last long and you definitely don't want to miss it, as it's the best offer they have ever released!
Perfectly matching the newly released iPhone 5c, the red cleas displayed below are sure to brighten your young one's days with their brightly colored design.

Not only are they sure to be comfortable and provide proper support, but you can also rest assured knowing that these unique shoes are completely vegan friendly. This means that absolutely no animal products have been used in its production.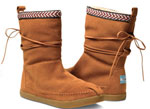 Another perfectly timed coincidence –though of course it's no coincidence at all– are the super stylish nepal boots in chestnut suede. They're sure to look great with any Fall style — from the oversized sweaters to scarves and the cute berets– especially with their versatility since the collar can be folded down. Even better is that with Nepalese-inspired trim, moccasin whip-stitching and fleece lining, your feet stay toasty in style!
Stay tuned for more of Toms Shoes promotions and hottest offers with our page dedicated to all of their latest discounts.