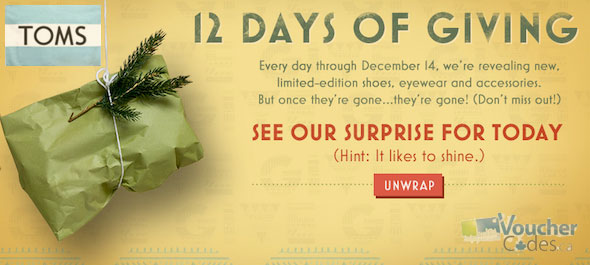 Already infamous for their funky footwear, Toms Canada are stepping it up a notch during their 12 Days of Giving event. For 12 days, you will be able to purchase limited edition models and enjoy free shipping along the way.
Visit Toms.ca and find out more
Expires: 31st December, 2012
If you haven't had a look at this special event yet, I guarantee that it's worth your while as some of the models are pretty wild. As a matter a fact, I'm not sure that I have seen some of these patterns being used anywhere else. Now, I'll let you decide whether you think this is a good thing or not, but personally I think they're awesome.
Check out our page dedicated to all the latest special offers from Toms Canada to discover all of the top-rated promotions for this shoes and eyewear brand.
Do you think the promotion is worth it?