It seems that stress is unavoidable nowadays: from high traffic scenarios to demanding workloads and activity-filled activities with the kids. But taking time to relax should be just as unavoidable and should in fact, be a priority in everyone's life. Take a moment and shop for skin and bath products for yourself and save 40% off everything at The Body Shop Canada!
Shop The Body Shop's Sitewide Sale Now


Expires: 18th February 2014
There's code that might be useful to for you here.
The immense relaxation that can be achieved from taking a bath is unmeasurable and to help you wind down even more, I definitely recommend the deep sleep comforting milk bath float. Having tried it myself, I can attest to its effectiveness, especially when it comes to relaxing before bedtime in order to sleep deeper through the night.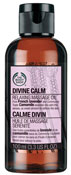 Or unwind by asking your partner to give you a massage: whether a full-body one or a quick back one, anything should help soothe those tense muscles. As an incentive, getting the divine calm relaxing massage oil and then giving them a massage first may just guarantee you an even more thorough one on yourself!
Though keep in mind that they might be way too relaxed after your massage to even have the energy to move – attempt this technique at your own risk!
What do you do to relax?