When it comes to shopping sales, there is something absolutely magical about seeing the total price and all the incurred savings. Perhaps it's the price comparison between the original price and then the reduced one, or maybe it's simply the idea of saving. In either case, La Vie en Rose's Pink Sale is sure to tickle you pink with its bras, lingerie, sleepwear and men's items reduced up to 70%!
Shop the La Vie en Rose's Pink Sale
Expires: Not Provided
First off, it's important to mention that La Vie en Rose also has an entire section dedicated to men's underwear, sleepwear tees and more. Take for example the Johny solid boxers, originally priced at $14.95 and discounted to $6.99.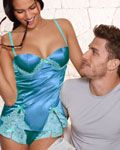 The best part about them is that they provide a smooth look under clothes, perfect for wearing to the gym considering that certain work-out clothes are rather light-weight and potentially revealing.
Speaking of which, ladies, dare to be revealing in the Giada satin and lace set, available in lilac, pink or yellow. Originally priced at $49.95, both the cami and the boxers can be yours to show off for just $19.99.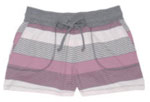 As for lounging around the house, the yarn-dyed boxers are the epitome of cuteness. Featuring a drawstring that can be tied into a lovely bow, they're made of 60% cotton ensuring softness and comfort. Reduced to $8.99, you might as well go ahead and order 1 in each available color: charcoal, blue stripes and pink stripes.
Shipping is free on orders of $75 and over at LaVieEnRose.com.
We'd love to hear from you! Let us know on Facebook which items from the Pink Sale have caught your attention.