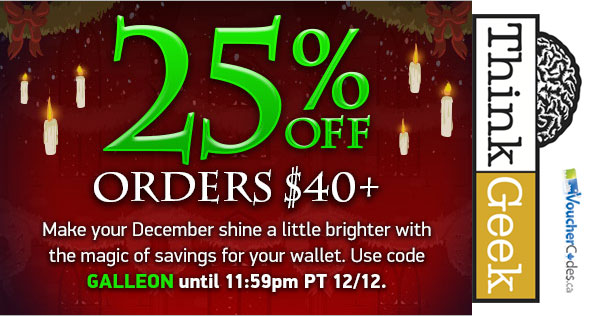 While ThinkGeeks' shipping policy is not super Canadian friendly (have to pay slightly higher shipping charges, duty, taxes and fees and free shipping doesn't apply, and we have to wait longer for packages to arrive) the deal they emailed us this morning to share with our community should make up for the higher than usual cost-to-door price.
We have 1 coupon code for you. It's a public offer, so it's available on their website (right at the top of their site, unless the offer has finished), and we also had news about a fairly decent sale that's going on.
Being a bit of a geek myself, I really like some of the little tit bits and gadgets they have. I've used them before to get little stocking stuffers that I couldn't find at any Canadian websites. I'll start off with the code they have for a couple of days, for other offers after this one has expired please remember to see our ThinkGeek page.

The sale going on while stocks last if for discounts of up to 60% on select products. It should be advertised on their homepage. I didn't want to link the page, as they have a habit of changing links around and I didn't want a broken one on the site.
Did you pick up anything geeky? I actually own one of these Tetris lamps, it is awesome.