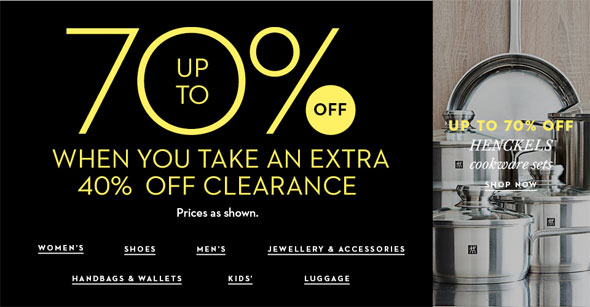 There are a few offers this week at TheBay.com. The main one that's been causing a lot of buzz has been the free shipping on orders of $99 or more (or actually only $45 if using The Bay credit), we have had a lot of use of this deal on The Bay store page right here on VC. But there are other offers that we think you should pay attention to:
Up to 70% off, when you take an extra 40% off clearance (26th Dec only);
Up to 70% off Henckels cookwear sets;
Up to 60% off dresses;
Up to 75% off luggage sets by Samsonite, Delsey and more;
Up to 60% off diamond, gemstone, pearl, and gold fine jewellery;
Up to 60% off outerwear;
Up to 50% off women's rain and winter boots;
Up to 50% off women's cold weather accessories;
Up to 50% off select men's shoes;
Up to 15% off select designer watches;
Up to 50% off small kitchen appliances;
Save on mattresses;
Buy one get one free on home essentials;
Get $10 off your next purchase of cosmetics or fragrances on purchases of $50 or more (ends Jan 1st);

And so much more!….. Use the below link to see TheBay.com's sales schedule for full listings
Shop the Bay Boxing Week Sale
Expires: 1st January 2014 (some of the above offers end on Boxing Day itself)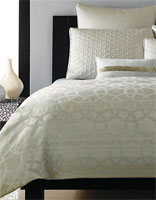 Personally I'm eying up the luggage sale. While there are quite often luggage sales at stores like Bentley my luggage got a bit manhandled on it's way to see my family this year, so I need to replace it, so this offer comes just in time.
After speaking to my girlfriend she is super existed about the buy one get one free on home essentials. She said she would like this collection of sheets, it's their hotel collection made with 800 thread count Egyptian cotton, I wish she didn't have such expensive tastes, but they do look nice don't they?
What will you be saving on?