Dads & grads both need lovin' too and though it can be challenging to find the perfect gift for Father's Day or a graduate, electronics are often sure winners. Just in time, shop The Source's Dads & Grads event to save up to 60% off select products. You could also win your entire order by liking their Facebook page!
Find the perfect gift for dads & grads The Source
Expires: Not provided
For even more of The Source's promotions, be sure to bookmark our page dedicated to all of their top rated deals.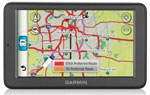 Is your dad the kind who always gets lost no matter how many times he assures everyone that he knows exactly where he is? Then perhaps a Garmin Dezl GPS might solve the entire family's worries. Originally priced at $569.99, it can be yours to gift for just $270!
Although it's best feature is that your family might spend less time in the car during the next road trip, it also has a 5.0″ touchscreen and can even keep track of fuel usage!

As for grads who will undoubtedly still be slightly wound up after all the stressful exams, give them something to wind down with such as the Soul headphones, priced down to $269.99 from $349.99.
On top of being smartphone compatible, they also have a gold-plated connector for super signal transfer and most notably feature comfortable ear cups. Though the ones displayed on the right are black/white, these headphones are also available in gold/black.
Have you gotten your dad a gift yet? In case you need some inspiration, be sure to take a look at our List of the Best Deals for Father's Day 2013.