Hey, The Source has something to say to you: it's saying thank you. They've been around and kicking for over 40 years now and they want to celebrate with you! For a limited time, you can save up to 65% off in select categories ranging from gifts to accessories for gamers. Our The Source page hasn't been around for as long, but it loves a good party and the chances to save as well! It's like that fun uncle that always makes you laugh.
Shop the at The Source Here
Expires: Not Provided
I geeked out when I saw that gaming accessories were up to 65% off, but I held back and checked out the tech gadgets instead. With savings up to 40% off, it's an ideal place to stop if you're looking for something unique.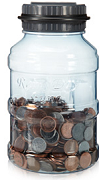 I have a friend that has the Water bottle coin jar featured here and it's pretty nifty. It counts the change you put into it and displays a grand total at the same time. No more counting manually and getting your fingers all gross; this toy does it for you. You can snag this item for $19.99 for a limited time.
Did you know that you could save money and get your item shipped to your local store for free? Check out that option when placing an order.