The IKEA Kitchen Event is back until the 28th of October. This means that you could redo your whole kitchen and get up to 20% back in IKEA gift cards. Or if you prefer, you can always decide to use your IKEA credit card and you won't have to pay for 12 months.
This is how it works: receive 10% back in gift cards on your entire purchase, receive 15% back in gift cards on the purchase of 1 or 2 appliances or get 20% back in gift cards when buying 3 or more appliances. The offer doesn't include custom counter tops, delivery and installation.
Browse the IKEA kitchen event flyer
Expires: 18th October, 2012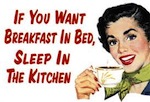 I think that IKEA makes some really nice kitchens that can be quite affordable, especially during the kitchen event they run annually since you'll get at least 10% back in gift cards. Allowing you to get more kitchen accessories and decor items to complete your renovation project.
Maybe after the renovation of a kitchen, some people will actually want to sleep in it! (it's such a cool image)