Pampering oneself is as essential as exercising and eating healthy and while not everyone has the budget for a trip to a spa, it's possible to get a similar sensory experience from bath and body care products. Lather up in one of The Body Shop's many wonderful products and save up to 50% during their Semi-Annual Sale. Until June 16th, 2013, free shipping is also available for orders over $50.
Shop The Body Shop's Semi-Annual Sale Event
Expires: 14th July, 2013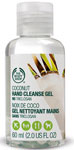 With the FDA (America's Food and Drug Association) finally weighing in on the much controversial subject of whether antibacterial soap and hand sanitizers are good for use, the fact remains that the main ingredients with which they're made, triclosan, is actually harmful. Upon use, triclosan quickly breaks down when exposed to chlorinated water and produces toxic chemicals, including chloroform — scary stuff isn't it?
So, ditch the hand sanitizers in favor of the coconut hand cleanse, which provides a rinse-free cleansing, minus the triclosan.

For those who are daily blush users, then an adequate blusher brush is absolutely essential. Reduced to $12, its synthetic make promises to deliver an even dusting of powder onto the face and cheeks. It is also marked as limited edition, meaning that it's best to jump on the offer sooner, rather than later as you may never see it again!
As usual, a variety of body butters have been reduced as well, such as the lovely mini moringa, which can be acquired for just $3 instead of $6.
How will you be pampering yourself this summer?