That's right — Hudson's Bay One Day sales are back with a frenzy! Every day from now on, Hudson's Bay will feature a different promotion that will help you save money on the things you need the most.
Shop Hudson's Bay's One Day Sales
Expires: Ongoing
Just to give you an idea of the awesomeness of Hudson's Bay One Day Deals, here's an example of today's deal, on November 13th 2013: two Dyson vacuums for $399.99 each instead of their usual price of $649.99 — that's $250 in savings!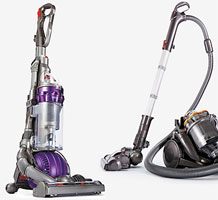 While some of you may look at this vacuum and this it's surely pricey for nothing, think again. It's actually a very powerful machine that features Root Cyclone technology, meaning it won't lose suction as you vacuum. Personally, I've got through my fair share of inexpensive vacuums and they all seem to break down or stop vacuuming as great really quick. This time around, I'll most probably be considering a Dyson vacuum and this one day sale sure is enticing!
A great way to stay up-to-date with their One Day Sale deals is by being the first to know, so be sure to sign up to their newsletter and as usual, don't forget to check out Hudson's Bay page for all their latest deals and sales.
Keep us posted on the one day deals that catch your fancy below.