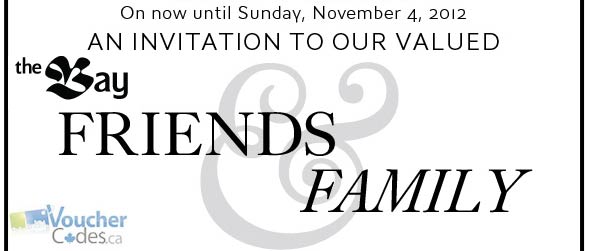 The people behind The Bay's online store truly have been on fire as of late. On the heels of over a week of awesome discounts as part of the Bay Days, they are coming back strong with a Friends & Family sale. During this special event all shoppers will be be able to save as much as 50% on a selection of items that includes everything from women's boots and coats, as well as men's apparel to baby items.
Not bad is it? Well it's about to get even better, as HBC MasterCard and HBC credit card owners will be able to enjoy an extra 25% off all regular, sale and clearance-priced items.
Shop this Special Sale at The Bay
Expires: November 4th, 2012
Don't own a HBC credit card? Fret not. The Bay has you covered. During this special offer you will be able to save an extra 15% on most regular, sale and clearance-priced articles or an extra 10% off items like furniture, mattresses, electronics, major appliances, vacuums and small appliances.
If you're a frequent The Bay customer, it may be a good idea to consider getting one of their HBC credit cards because the Friends & Family Event isn't the only occasion on which owning one could be advantageous. For example, all year round HBC credit card owners only have to spend $45 or more in order to enjoy free shipping. More than half of what others have to spend in order to enjoy free shipping. Have a look here if you're curious to learn about more helpful shopping tips for the Bay (including coupons).