Rona is having another 3 for 2 event this weekend. This time the offer is on 3.78L paint and selected 7-mm laminate flooring. I'm not sure if customers can combine the products together, 2 flooring plus 1 lot of paint for example, but I don't think so from what I've read on the coupon.
I waited all summer long for this offer to come back around because we did loads of renovations, but unfortunately it didn't happen in time. It's bad luck because we finished everything just last weekend…
Print your Rona 3 for 2 coupon
Expires: 16th September, 2012
Since this is a VIP offer, it means that you have access to it one week before everyone else. This also means that if you don't have time to redeem it this weekend, the offer should also be available next week.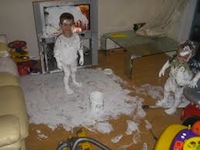 ~ Just be careful to watch your kids while painting ;)