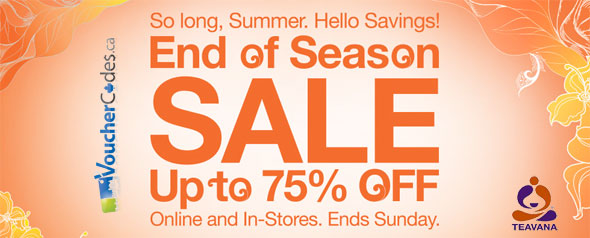 To be honest, I was particularly surprised to have been browsing the mall the other day, only to come across a Teavana store instead of the usual shop I was used to. Not to say that I minded, especially since I was offered a free tea sample (always a nice perk!) but all this to say that Teavana is one of those tea shops that is a must-shop and what easier way to do so than online? Even better, browse through their End of Season sale with free shipping off all orders and up to 75% off in savings on select teas, products and much more!
Be sure to tweet us @CouponsCanada what goodies you find and order.
Shop Teavana's End of Season Sale
Expires: 28th July, 2013
Also, don't forget to use the code available on our Teavana store page to save $10 off purchases of purchases of $60 or more.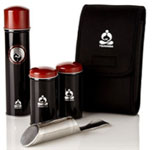 Although I'm not entirely sure which end of season Teavana is referring to since upon looking outside, it seems that Summer is most definitely in full swing, there are nevertheless plenty of opportunities to save such as with the tea voyager travel kit, which would be the perfect accessory for a road trip to any concert in Canada that most appeals to you!
Discounted to $17.47, the kit includes 2 tea tins, a large thermos (with a stainless steel infuser that also doubles as a tea scoop) and even a traveling case!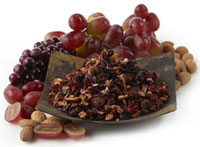 Bake some delicious amaretto cupcakes with amaretto whipped cream to enjoy while sipping on the berry almond amaretto tea reduced by 50% to just $3.60. It's a herbal tea that is sure to pair amazingly with just about any fruity dessert, especially those loaded with extra frosting!
Has a Teavana store sprung up at a mall near you yet?