When you hear Bay Days and the discounts associated with this magical phrase you can't help but get excited about the prospect of saving big. Over the last few weeks, I've been talking heavily about the sales going on and the epic savings you can reap and, for today only; The Bay has upped the ante. Until midnight tonight, you can enjoy free shipping on all orders, no minimum required.
Shop at The Bay here
Expires: 26th October, 2012 (at Midnight)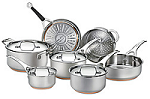 If you've tried making a purchase during this huge sale, you might have had problems making an order–I know I did, at least. If you've been hesitating and ho-humming about weather you'd like to jump on these offers or not, then quit that thumb twiddling and get to ordering! Wouldn't you feel silly if you missed buying the 11-piece Jamie Oliver cookware set? It's normally $799.99 but they have slashed that priced by epic proportions to only $237.99. A good cookware set will last you years and save you money in the long-run.
Free shipping is usually only on orders of $99 or more; blink and you'll miss this rare offer! For future offers, customers may be interested in reviewing the latest The Bay offers.