Make sure to schedule yourself a nap every once in a while, but don't be caught snoozing during the Ikea Bedroom event. Right now, when you buy a bed frame of any size, you'll get either 15% back in Ikea gift cards or have the option to not pay anything for 6 months on your Ikea credit card. So hit that pesky snooze button an extra time, slowly wake yourself up by heading to our Ikea Canada page and then make your way over to your local store.
Shop the Bedroom Event at Ikea
Expires: 9th September, 2012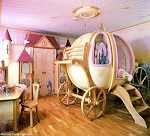 Keep in mind that the following prices are just an approximate and could vary, but here's an idea of what you could get back in gift cards if you were buying a queen size frame:
Keep in mind that this offer excludes sofa beds, futons and cribs or cots. I've been looking into getting a new bed frame, so I'll be planning a visit to Ikea in the near future.