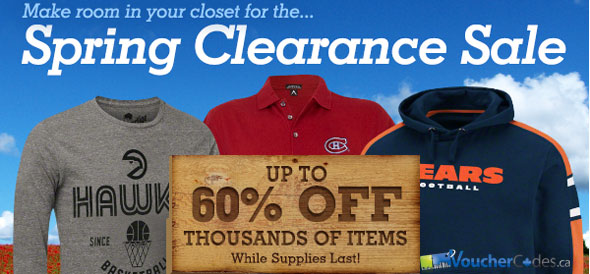 Apparel showing support for a favorite sports team is absolutely essential for any dedicated fan and what better way to invest in clothes than with a discount? For a limited time, save up to 60% during the Spring Clearance Sale at FansEdge. Another great way to save money is with our FansEdge coupons page.
Shop at FansEdge
Expires: Not provided

In the midst of a historical moment, the Blackhawks are close to breaking the record for not having lost a single game in regulation so far this season. Not only that, but the Blackhawks also have some of the best players in the NHL, such as Patrick Kane and Jonathan Toews. Commemorate this momentous year with a t-shirt in support of the former: the Patrick Kane Women's Red T-Shirt, featured on the right on clearance for only $27.80.
Now that we're done with the West, there is no way we can bypass the Montreal Canadiens, who have been having a stellar season thus far. Against all adversity, especially since not a single critic predicted that Montreal's team of worship would be in the playoffs having finished last in 2012, they are now first in the 2013 conference. Indeed, the off-season signings (Prust, Bouillon & Armstrong), in addition to the emerging rookies (Galchenyuk & Gallagher) and the recovered veterans (Gionta & Markov) have all contributed to restoring and reinvigorating this team's identity.

Officially licensed by the NHL and made of a water repellent material, the authentic Montreal Canadiens RBK Edge Jersey, reduced to $279.38 from $372.50, is the absolute and ultimate way to show your support for a team who has surpassed all expectations.
There's also NHL's officially licensed Montreal Canadiens Women's Old Time Hockey T-Shirt that is worth adding to any collection since it features their founding year: 1909.
Let us know below what you think of the Blackhawks' record and the Habs' progress?