Swarovski Crystal : Free Ornament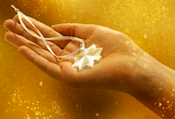 There is a nice promotion going on at Swarovski Canada for a limited time only where you will get a free crystal ornament with any purchase. It started just a few days ago so they should still have some stocks left (hopefully). My auntie is a huge fan of their crystal figurines and she was really happy when I sent her this offer as she was thinking about getting a new one anyway. I'm not a big fan of their crystal figurines myself (no offense to anyone, but I think it's a bit cheesy and way too fragile for my clumsy skills) but I need to say that I really like their jewelry.
This Christmas ornament is really beautiful and I think that Swarovski crystals always make nice gifts. Go and check it out for yourself. And you won't need to use any Swarovski coupons to get this free gift with your purchase.
Shop at Swarovski Canada
Find more Swarovski.com Coupons here