Oh summer, the perfect season for catching up on some reading, being active outside and of course, showing off one's fashion sense with all of the wonderful clothes on par with each year's trends. Stay cool this summer and save 20% with our VoucherCodes.ca Exclusive for Stylexchange.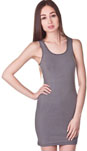 Are you a poker woman? Cast the luck ever in your favor with the Lucky 7 Dress. Priced at $35, our VC Exclusive reduces it to $28 and while it might indeed bring you luck, it can also be used to distract the boys at the table!
Since the beauty of this dress does lie within its simplicity, there's nothing wrong with adding a couple of accessories to really make you stand out from the crowd.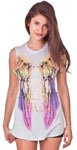 In case you're looking for a top with a unique print for the summer, the young heart run free top looks cool enough to be worn just about anywhere: from barbecues, to the beach and maybe even shopping at the hottest stores.
No worries, Stylexchange also has plenty available for men, such as the Projek Raw denim capris.
Tweet us @CouponsCanada your must-have summer accessory!