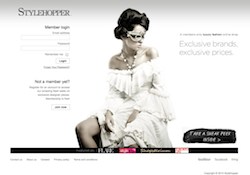 Stylehopper sent us an exclusive coupon code for their recently launched luxury fashion online store. The code that we have below will allow all customers to get instant access to their store, plus 10% off their first purchase. Stylehopper.com is a Canadian online store that sells designer pieces at discounted prices. This means that their prices are in Canadian dollars but also that you won't need to pay handling or duty fees on your order. You can also get free shipping on orders of $150+. Sales on designer items can go up to 70% off original retail prices.
Finding awesome fashion designer pieces can become like a treasure hunt sometimes so this kind of online store is perfect to save time and money. If you're addicted to fashion, like me, Stylehopper is definitely a website that you want to be a member of. Because the discounts Stylehopper offers are so high, sales normally last only 2-3 days which means that you absolutely want be in the loop. So don't forget to use our code and save an extra 10% on your first online order of luxury fashion.
Go to
Stylehopper Canada
And what about you let us know what you think about them? We always like to hear what you think about new Canadian online stores.