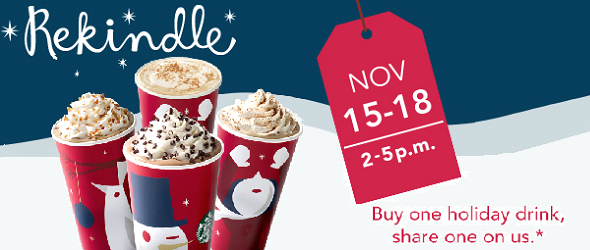 It's time for a coffee break because Starbucks will be getting you (and, potentially a friend) caffeinated to the extreme. From November 15th to November 18, visit select locations between 2pm and 5pm to buy one holiday drink and get another one at equal or lesser value for free.
You could also do what I might be doing on those days: keep both drinks to yourself! In fact, I might actually do that –not because I'm greedy– but because Starbucks coffee is my kryptonite.
Find a Starbucks location near you here.
Expires: 18th November, 2012
Just writing about this is making me crave one of their festive drinks right now! Two large drinks for the price of one? Yes please!

There are 4 drinks that apply to this offer:
Caramel Brule Latte
Peppermint Mocha
Eggnog Latte
Gingerbread Latte
I've had the chance to get my hands on the Caramel Brule, and let me tell you … it overwhelmed my taste buds with scrumptious deliciousness. It wasn't overly sweet and went down smooth just like a latte should. My next flavor to try will definitely be the Peppermint Mocha one.
Which drink are you going to pick up? Will you share it with a friend?