Although Mother's Day has come and gone, it has brought with it a joyous occasion to celebrate all the loved ones in your life as well. To help you do so, we have for you a wonderful VoucherCodes.ca Exclusive that is sure to blow your socks off! Shop Sportchek's selection and save 25% on regular-priced merchandise and 10% on sale items.
Did you know that Sportchek is part of a larger group of sporting stores, that also includes Hockey Experts, Atmosphere and more?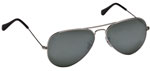 Protect your eyes this summer in Ray-Ban Aviator sunglasses, in a design that has yet to go out of style, despite having been specifically modelled for US military fighter pilots in 1937. Also available in other colors, the ones featured here are silver in a large size and priced at $195 — with the discount above, it comes down to $146.25!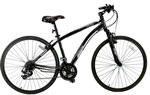 Since the warm months are indeed already upon us, then maybe the Nakamura Royal bike is just what you need. Originally priced at $279.99, it can be yours for just $180! Skip the gym and the long traffic jams by biking home with the added benefit of becoming healthier and fitter with this steal of a deal.
There's also the option of printing the promotion and redeeming it at any Sport Chek or Atmosphere store, but where's the fun in that when you can shop from the comfort of your own home?