Every Canadian knows about the iconic Roots brand and their beaver mascot. They are one of the many suppliers of official team Canada memorabilia and are more widely known for their sweatshirts. A cold winter night has always been made cozy with my favorite Roots hoodie and, right now, the more you spend, the more you save; spend $100 or more online and you'll save $25 on your order.
If you'd rather something else, then check out our Roots Canada coupon page for further discounts.
Visit Roots and find out more
Expires: 10th September, 2012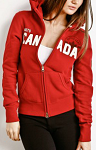 With the exception of gift cards, there aren't any restrictions which makes this deal even sweeter. Their summer collection has recently been reduced by an extra 20% for even bigger savings.
I noticed that there were sport tank tops in the summer sale section and, honestly, if you can pick one up you really should. I bought a Roots Sports tank years and years ago and it's still going strong. I've never had a better tank to workout in and, for only $20; it's really a steal.
Shipping is free with orders over $100 as well, which is even more of an incentive to get to that magic number!