This $20 off coupon code on purchases of $60 or more at Thebodyshop.ca is a good opportunity to encourage a collection of ethical products and make a difference in today's world.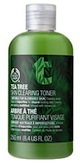 Indeed, The Body Shop offers a line of products that are cruelty-free which means they haven't been tested on animals. This line includes body butter, fragrances, makeup, eye cream, shower gel, body mist and more. They also have a community fair trade range based on tea tree that looks absolutely amazing. There are more things than just coffee that you can buy as fair trade products.
Use the following code now on fair trade products or cruelty free ones and encourage an eco-friendly company that tries to do things differently, oh and save money in the process.
Have a look at our page dedicated to The Body Shop Canada and find out more about the brand's ethical ways and who knows, there might also be a new coupon available.