As one of the best in its field, Sony's products have been tried and tested as being durable, fast-operating and of course, much loved by the online tech community. Even better is Sony's frequent release of e-coupons allowing online shoppers to save even more off their purchases. In fact, for a limited time, you can save anywhere from $5 to $100 off orders of $99.99 or 20% off DSLR accessories priced over $49.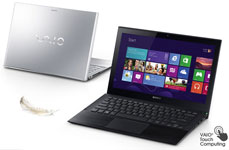 With the first day of school only a couple of days away for many, the time has come to start thinking of simplifying your student life and the Vaio Pro Ultrabook is sure to do just that! As the world's lightest 13.3″ touch Ultrabook, it will not only make it easier to carry from class to class but is also certain to provide the speed required to multi-task in class (i.e. chatting while speedily taking down the professor's every word).

For those who already have a laptop, then perhaps the lens jacket could make for a nice way to save. You never know when the forecast may unpredictably change to rain and even then there's plenty more to choose and save from such as shoulder straps, card readers, memory cards, focusing screens and much more.
By the way, there's also a huge sale off PS3 accessories with up to 75% off!