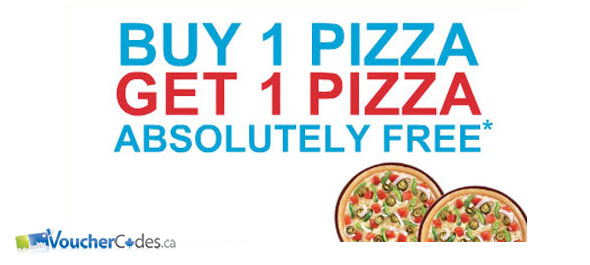 So I have a tasty treat for you today. I have one offer in particular and I thought I would jot down a couple of valid coupons I tested too just to sweeten the deal for you.
If you can spot the deal in the image above then you have a head start on what I'm talking about. Until God knows when Domino's are offering BOGOF on any pizza, absolutely any pizza you want–but it must be on Tuesdays. The price obviously has to be the menu price and it can't be used in conjunction with any other offers (like the coupons I have put below for you). And with over 370 locations across the country I don't think it will be hard to find one that will deliver to you either.
You can use their website, their flyer or their new app for android and iphone to order your pizza. I have to say I have used the app a couple of times and it is kind of fun. But to have it there on your phone or tablet all the time is just too easy and tempting, so better use the website instead. After all, treating ourselves every now and then is okay, but we can't do it all the time. Speaking of which I read a thread on reddit talking about the blotting of pizzas and how much fat it really takes off, I can't link to the article because sometimes they swear on the community site (if you're interested then you can google it), but I found a short and sweet one from CNN health that basically repeated it, saying that blotting a pizza with a napkin does remove about 20-50 calories from the pizza without really affecting the taste in a bad way, so why not give that a try if you are feeling overly guilty about taking that extra slice.
You may want to see if these coupons still work too:
I took the above coupons form our dedicated Domino's Pizza coupons page