Is it just me or is the banner overhead a cuteness overload? Now take a moment to picture your child's picture maximized into a poster, which can then be gifted to family members or hung up in a family room. Make the moment you just imagined happen and save 35% off posters at Snapfish Canada. If you would rather portray your pictures elsewhere (say on clothes or in a photo book), then use the code below to enjoy free shipping on orders over $30.

Make playtime that much more rewarding with your little one by putting together a photo puzzle of the two of you. Subsequently, glue the finished puzzle into a picture and hang it in the hallway or anywhere else in the house. These two activities combined not only enhance the bonding experience but also gives your child something to be proud of, especially if it's showcased for everyone to see.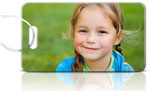 For those who struggle to keep everything organized in a busy household, most notably when it's time to go on a much-needed family vacation, then use everyone's picture in a bag tag, which can then be affixed to individual suitcases. In fact, these could even be used for gym bags, lunch boxes… the possibilities are endless.
In case you're only interested in photo gifts, we also have an incredible code for 25% off!