Are you a loyal shopper of Well.ca? In fact, do you love saving money in general on everyday items? This brand is deepening their discounts even more and throwing a gigantic end of season overstock sale with hundreds of items that have been discounted up to 40% off. Sadly, none of the codes listed on our Well.ca page work with this promotion.
Shop the Well.ca Overstock sale here
Expires: 21st October, 2012
Items range from baby products, beauty and health to animal products.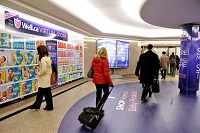 You can even find food items like Tassimo discs and granola bars. Don't forget that you can also pick up some free samples depending on what your order total is.
Did you know that in April, 2012, Well.ca had a virtual store located in Toronto? It was only open for a month but allowed clients to buy via QR codes and have it shipped for free to their house. That's a neat idea don't you agree?