November is one of my favorite months of the year for numerous reasons: it's filled with birthdays, savings and one of my favorite sales around. We've partnered with the Bi-annual friends and family sale at Rockport and they're back better than ever to bring you a Vouchercodes exclusive code. Discover your next favorite pair of shoes and save 30% off site-wide. With an offer so big, it's no wonder that the popularity of our Rockport page is skyrocketing!
I really do love this sale and to prove it my closet is filled with Rockport shoes, thanks to these kinds of sales.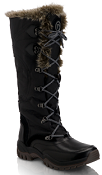 These pair of Finna fur lace boots look crazily cozy, don't they? It's as though they were specifically designed to endure the harsh winter months and the trudging through the banks of snow and ice. Warm feet are happy feet and they are only $140 after you use this exclusive code.
With a $9.99 shipping flat fee, be sure to take part in this bi-annual sale!
Comment below to let us know which Rockport shoes you purchase with the VoucherCodes.ca exclusive code.