The Roots free shipping promotion is back until next Monday, September 4th 2012, but stay posted as it's probably going to come back a few times again this year. We like free delivery offers because they are like shopping in store but from the comfort of our homes.
It also allows us to know straight away what stock is available without even having to search for it through all the different piles of clothes. Plus, we don't have to wait for a vendor to tell us what the latest deals are because we can see them directly. By the way, today is the last day to get $25 off orders of $100 or more.
Shop at Roots Canada and enjoy free shipping
Expires: 4th September, 2012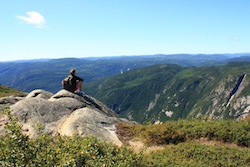 The photos on the Roots website are all about outdoor activities like trekking, cycling, canoeing and it makes me wish that this summer would last forever. I love camping and outdoor activities but unfortunately I didn't have enough time to do everything I wanted this summer.
But it's not over yet and I'm going camping this weekend so I'll try to make the most out of it. This is me at the top of a hiking trail in Les Hautes Gorges de La Malbaie in the province of Quebec. It's one of the nicest places that I've seen so far this year.
If you missed this free shipping offer, Roots normally run this kind of promotion a few times a year, so you can always check our Roots online discounts page to find the latest deals.