Have you let your feet have the pleasure of walking in Dr.Scholl's shoes or on the gel inserts you can buy? You're missing out on a true treat if you haven't! Right now at Shoes.com, you can save 20% on all Dr.Scholl shoes for men and for women. Give your feet a break in the form of some true comfort.
If you'd rather a discount on something else from shoes.com, take a quick walk over to our Shoes.com coupon page and pick up another hot deal, hopefully we will have one that's up your street.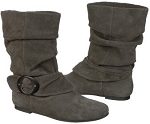 In all seriousness, I've always had a pair of Dr.Scholl's shoes in my collection since I was in high school. They help cushion your feet as you walk and in turn help ease the stress on your legs.
These slouch boots at the left–also found here— are exactly what I've been looking for and, even though they top out at $101.60 before the discount, are still worth every penny from what I've read online. I would rather pay a bit more for a decent shoe. With the discount, they drop down to $81.28. Score!