It's okay to be selfish during sales like those at La Vie en Rose. Let your naughty side show by taking advantage of buy one, get one free on select items for a limited time. Did someone say free bras and panties? I'm sold!
With your naughty side showing for this sale, let your nice side out by bookmarking our La Vie en Rose coupon page.
Check out the selection at La Vie en Rose Here
Expires: Not Provided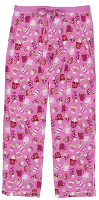 Pick up these knit pants for $24.95 and begin assembling your perfect outfit to sit at home and shop online in. You can pretty much mix and match all the sleepwear to find the best combination.
I would personally pair it with this knit rhinestone top in black. Since it's part of the BOGO deal, it would be free. With $12 per piece, you will be on your way to a perfect lounge set in no time.
What are you waiting for?! Go shop!