Girls just want to have fun, but they also want to save money at the same time. One of the main gripes about shopping online in Canada are the above industry average shipping fees. So when I saw this offer online for Garage, I knew I had to share it! For a limited time, customers can take advantage of $1 shipping on all orders, no minimum required.
We also have an exclusive code on our Garage Canada coupon page to save $10 when you spend $75, so I've included it here as well for some quick shopping!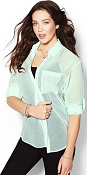 Take note that even though the code is valid until the end of the month, that the $1 shipping deal is only going on until September 25th 2012.
There's a couple of good sales going on currently as well; select jeans start at $20, select fleece hoodies starting at $25 and, the best one, a buy one, get one 50% off deal going on for chiffon shirts. A good basic one is this long sleeve chiffon shirt at $29.20; it's simple and can be matched with almost anything.
What would you like to buy?