With back to school right around the corner, it's time for parents to get their savings on online for their kids. This week-end only, shop at Sears Canada and don't pay tax! That's right, Sears will pay the tax for you and you can also save 15% off select items on sale such as: clothes, shoes, items for kids, bed & bath and much more. Keep reading to find out more.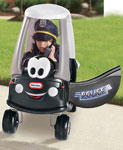 Let's face it, kids can never have enough toys and either way, it makes for the perfect photo opportunity to have them running around and rolling on the floor laughing from having too much fun. Although one has to wonder, is it possible to have too much anyways?
The little tikes patrol car is certain to guarantee loads of great memories for your child, especially since it can be driven both inside and out!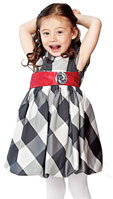 As for back to school clothes, there are definitely more than enough options. You know your little girl is certain to look absolutely adorable in the Newberry little girls' plaid dress, so just go ahead and add it to your cart and at a cost of only $6, that's the equivalent cost of a morning coffee for most!
As much as this post has primarily focused on items for kids, there's something for the whole family! For those looking for new jewelry, the blue topaz heart pendant would look stunning with just about any outfit, while the Reebok training jacket would be perfect for any man who works out or enjoys the great outdoors.
Tweet us @CouponsCanada what you love shopping for the most at Sears.