I have this love-hate relationship with the winter. While I get to spend lots of time with friends and family, it's mostly indoors playing games and drinking and eating, vs outdoor activities. So as you can imagine, I've put on a few pounds (no, there will be no ensuing photos) and though I have started swimming again and I'm looking for other activities to lose some of those pounds as well as tone up a little–I'm not getting any younger you know.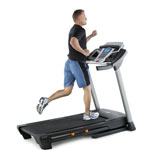 While I don't know if I will get any fitness equipment myself in the sale, and that's mostly because I already have most of what I need at home to work out, but you might not. So if you're in the market for some home fitness gear without having to pay the full hefty prices, then the season of savings for fitness gear has begun. This time around, the pioneers of savings is Sears.ca with a 1-day sale on cardio equipment, where customers can save up to 70% on some treadmills (not all), exercise bikes and those strange elliptical things. It will be today only so hurry. If you're too late for this sale, see if there are any new offers on our regularly updated Sears coupons page on VC.
Shop the Sears Canada Fitness Sale Here
Expires: 26th March, 2014

While I'm at it I might as well mention some of the other sales Sears.ca has going on over the next few days, especially since most are particularly noteworthy. They have an interesting 50% off select products like appliances, clothing, furniture, electronics, home and garden, kids stuff and a few smaller categories in the Sears Days sale until April 6th 2014, there are only select items at the maximum 60% off, but there were loads in the appliance sale when I checked which will be welcome news to those moving home soon.
How are you planning on losing weight this year?