It's not frequently that Luisaviaroma releases a code but, when they do, it heats up our Luisaviaroma coupon page like you wouldn't believe! Right now, you can get an extra 20% off already discounted items for a limited time; that means you can get up to 90% off in total.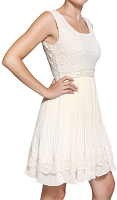 The summer collection is currently being liquidated and, even though it's getting a bit too cold out there, I fell instantly for the dress on the left image. I love the style–which you can see more here–as well as the price. Before the added 20% off, it's already reduced to $71.10; with the added bonus code, that drops it to $56.88 and well within my budget!
Don't forget that shipping and import fees are included in the price, so you won't get a surprise when you get your purchase. What would you like to purchase?