Assuming you read my Va-Va-Voom list of best lingerie deals, you'll know that Victoria's Secret was among my top picks of where to pick up something sexy and scandalous for Valentine's Day. Be even more daring and take advantage of up to $75 off your order.
Don't worry if you have been flirting with our Victoria's Secret coupon page, we promise not to tell anyone!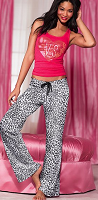 It's not all about lacy underwear and frilly see-through garments at Victoria's Secret as there's also clothing, gifts and sleepwear just waiting to be picked up. Dream about lounging around in this Pillowtalk tank set, available in three different styles for $49.50. Pick up the leopard print pants style to really let your wild side out.
Become truly the vicious man-magnet that you know you are with this Flirty body butter with pheromones. Yes, you read that right! This seductive lotion contains pheromones that will drive men wild and make you be the ultimate vixen. Scented with vanilla, blackberry and vanilla, this luxurious item goes for $26 and you should definitely get two!
Shipping to Canada varies per order, so make sure to double check the fees before purchasing!
Are you going to be a super vixen this Valentine's Day?