I realize we have a few more events to go before we hit the Christmas season and the discounts that fly around that time of year, but there's no way I can resist a chance to save up to 60% off on select holiday items at the Sears outlet center. Save now so you can save later for epic Christmas gifts.
If you'd rather something a little less festival, check out our Sears Canada coupon page.
Visit Sears and find out more
Expires: Not Provided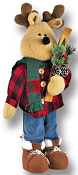 There's a wide variety of items to choose from that you can pick up for the holiday season; from small wall accents to stockings to full trees. Could you really say no to this adorable reindeer in plaid that is on sale for $27.94?
Not all of the items are geared specifically towards the holidays, and there are some good deals on other items. My big find was this 6 piece square mirror set on sale for 50% off at $24.99. It's just a perfect accent and can be placed any way you'd like it.
What would you like to buy for early Christmas shopping in this sale?