There's no need to feel down and blue because it's cold and dark outside! Light up your life with some big savings – such as with 60% off at The Source's accessory sale. No gadget is complete without at least one accessory and now you can make it happen for less. One of the things you shouldn't live without is our The Source Coupon page.
Shop at The Source Here
Expires: 24th January 2013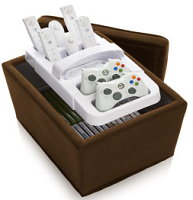 I honestly tried to stay away from the gaming section, but I was quickly pulled in by all the discounts! It's a good thing I did because I found something that is perfect for gamers and for everyday use. Featured on the left is the LevelUp storage ottoman, designed to hold games and controllers in a convenient location that could also be used as seating.
Non-gamers can still take full advantage of it by storing DVDs, TV remote controls and other devices to prevent them from getting lost. No one likes searching for the remote and this clever piece of furniture will banish that annoyance for good. Order yours today for $54.99.
Don't delay, accessorize today!