Take advantage of warehouse prices without actually having to go to the warehouse yourself! Sears Canada is throwing this bash and everyone is invited. Enjoy up to 50% off select merchandise ranging from kitchen goodies to linens, toys and much more. You can quite literally buy everything, including the kitchen sink.
You can't buy our Sears Canada coupon page, however. Sorry!
Shop at Sears Canada Here
Expires: 17th January, 2013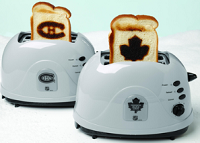 There's absolutely zero reason why you shouldn't have one of these NHL logo toasters in your house. Unless you're a Toronto Maple leafs fan, then you should automatically buy the Montreal Canadians one because we all know who the better team is (that's also my Habs pride coming out). Pick one up for only $29.99.
You could also sweep up this Hello Kitty pancake maker for a friend. I would love to make my own purr-fect pancakes with this gadget! For $29.99, it's all yours.
What are you going to buy?