Blink and you'll miss this 72-hour sale going on at Sears during which you can save up to 55% on select items for you and your home and take advantage of some pretty awe-inspiring discounts. Plus, as a bonus, we have a code that's been heating up our Sears page to save you $15 when you spend $100 or more.
Both the code and the sale finish on the 21st. Now without further wait, the code:
Travellers are going to do back flips over this deal I found: this 20′ Atlantic suitcase was originally $199.99 but, during this sale it's only $79.99.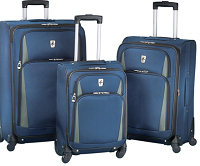 With the money you save on luggage, you can treat yourself even more on vacation.
Shipping is also free on orders of $75 or more. Don't worry, we won't judge you much if you really do pick up a Justin Bieber Bath mat.