Fans of the renowned author Dan Brown have been waiting in anticipation to find out what happens next to Robert Langdon and the wait is finally over! The next addition in the series is set to drop on May 14th, 2013 and can be pre-ordered for up to 50% off! How exciting is that?
Make sure to visit our Chapters Indigo coupon page for even more epic savings.
Shop at Chapters Indigo Here
Expires: Not Provided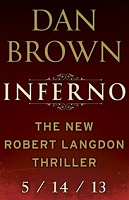 Set in Italy, our famous symbolist is drawn to Dante's Inferno and the secret surrounding it. He goes toe-to-toe with a sneaky adversary and embarks on a journey faced with riddles, hidden passageways and even more symbols than you can shake a fist at.
If you pre-order it today, it comes out to $18.15 as opposed to $33. Become a Plum member if you aren't already (it's free!), and get it for even lower at $16.50. I've had the chance to read The Da Vinci code as well as and to watch Angels and Demons in theaters and I have to say that it's amazing in its ability to captivate and engross an audience. The story does so by weaving its way in a manner that takes your mind for a ride.
Tom Hanks has already signed on to bring another book in the series to the big screen: The Lost Symbol. Maybe we'll see him doing a movie about this book in the near future?
Will you be pre-ordering Inferno?